Streaming online shows and videos is trendy these days. There are many exciting shows lined up for you that you can watch to drive away monotony from your life. There are many videos on-demand services available for that purpose. HBO GO is one of them. This article will teach us more about this insanely popular service today. Thus, you must know how to get a free HBO GO account today!
You can generate free HBO GO accounts and passwords with the generator below. Just click the "Generate" button and wait for about 20-30 seconds. Your email ID and password will display. Now, all you have to do is enter these details inside the login panel on its side, and you are good to go.
Free HBO GO Account Username & Password
Note: We have limited accounts; some might not work if they are already in use. If that is the case with you, rerun the generator for new details.
See Also: HBO GO Watch Offline: How To Download And Watch Shows
How To Get A Free HBO GO Account?
HBO offers a one-month free trial before you start watching its videos as a subscriber. Now you can use this 30-day free trial period to try out the paid version and proceed further if you like. Here we will look at a way to access a free HBO GO account.Also, learn about How Many People Can Watch HBO Max At Once. Here!
Method 1: Free HBO GO Login and Password (Premium List 2023)
Username: Password
senga000 : 0053411070
calwk: calwkgod
Carldeosupnet : justdoit09z
BIrdt3n : b12345678
amirgui20 : especial600
See Also : 3 Trusted Methods to Get Free CBS All Access Login (Updated 2023)
Method 2: Free Trial
Open your web browser and Go to HBO.com, and in the upper-right corner, choose to Sign up.
Select try one month free HBO GO account.
You should have valid email ids. You must create a unique email ID each time you register as a new user.
HBO GO will ask you for a different card each time you register. For this, you can get a prepaid card for yourself.
Cancel your subscription before the end of the month. You can do this by going to your profile and selecting Cancel streaming plan/Cancel membership.
Repeat the above-given procedure.
See Also: Does PS3 Have HBO GO Available?
Method 3: Friends and Family
In this procedure, you must get the help of someone who has already subscribed to HBO GO. As stated earlier in the features section, you can stream on multiple devices simultaneously. I know such people are hard to find, but what goes into trying once? Just ask any friend of yours or cousin or any other family member if he/she is willing to give away his login information to you so that you can access the shows from a free HBO GO account.
You can also get access to a free HBO GO account if you have a valid gift card. Another thing that you can try is to try any of these: Amazon Prime, Hulu, or Sling TV for free using their free trial. After you sign up, you can add the HBO channel to your subscription and enjoy. Before the subscription ends, cancel; otherwise, your account will renew, and money will be deducted from your bank account.
See Also: Activate HBO GO: A Step-By-Step Guide
Introduction To HBO GO
HBO GO is a video-on-demand service offered by the American premium channel HBO. It was launched on February 18, 2010. HBO GO is headquartered in New York City, New York, United States. Home Box Office, Inc owns it. To access HBO GO, you must have a paid HBO subscription through a TV provider (a cable or satellite TV package with HBO is required). If you get HBO along with your service provider, you automatically have access to HBO GO.
You can stream the videos from a free HBO GO account on any device like- mobiles, video game consoles, and digital media players. Programming content available with the service includes some feature and HBO original television films, super hit original series- every episode, every season; sports, documentaries, comedy specials, etc. that could be downloaded to computers, with no extra charge for HBO subscribers. This service is available only in the United States. It is available in the US territories where high-speed broadband is available.
Free HBO GO account offers many features like parental control where parents can check what their child is watching. You can set the maximum allowed rating to PG-13 for movies and TV-PG for TV shows. This will only show your kids the programs that fall under this rating. You can also pick up the show from where it ended, be it from any device, anywhere.
Amazon Prime subscribers can access all the HBO shows at $14.99 per month. Similarly, you can add HBO to your Sling TV and Hulu subscriptions at $4.99 and $15 monthly, respectively.
See Also : 3 Tested Ways to Get a Free Spotify Premium Account & Passwords
Features Of Free HBO Now Subscription
HBO GO has some fantastic features to offer. Let us discuss each feature in brief:
Simultaneous screening is available. This means that you can stream the same show at the same time on different devices.
You can activate the kids' lock. This helps to keep in check what your child is watching. Applying the kid's lock makes the search option unavailable; therefore, kids will only be confined to specific streamable content.
Note: Kids lock is available only for mobile devices.
Resume watching the show from wherever you had left. Under your Watchlist option, where you can bookmark content to view later, you'll find the "Continue Watching" section. Therefore, you can start over watching the show irrespective of your device. You have to log into the account.
You can share your free HBO GO account login credentials with anyone. For example, if you do not have HBO but a friend has. You can ask him if he will give you his login id and password. If he says yes, then you can stream your favorite shows.
You can get cast and crew info on a particular show. It is also possible to watch their different videos.
You can view the show through a browser. Also, you can carry it from where you left off.
See Also: How To Cancel HBO Go? [Complete Guide]
Advantages of HBO GO
There are several advantages to using HBO GO, including: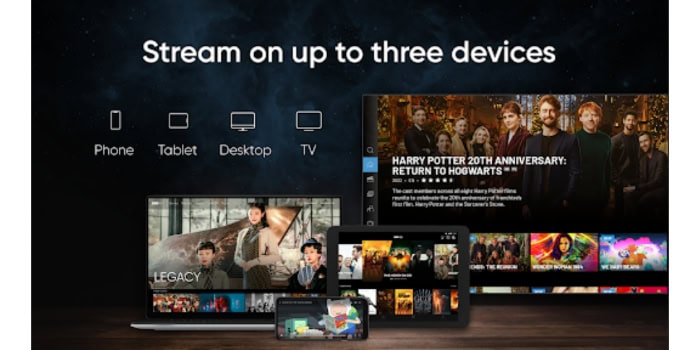 Wide selection of content: With an HBO GO subscription, you can access various movies, television shows, documentaries, and other content. It includes all the content available on HBO and a selection from other networks and studios.
On-demand viewing: HBO GO allows you to watch content on demand, so you can choose when and where to watch your favorite shows and movies.
High-quality streaming: HBO GO uses advanced technology to provide high-quality video and audio to enjoy a great viewing experience, even on small screens.
Easy to use: HBO GO includes an easy-to-use interface that makes searching and watching content simple. You can browse through different categories, search for specific shows or movies, and create a watchlist to keep track of your favorite content.
No commercials: With an HBO GO subscription, you can watch shows and movies without any interruptions from commercials. 
See Also: Prime MLB TV | Easy Ways To Watch Prime MLB TV On Amazon Prime
How To Cancel HBO GO Subscription
To cancel your HBO GO subscription, follow these steps:
Go to the HBO GO website and log in to your account.
Click on your account name in the top right corner of the screen, and then select "Account" from the drop-down menu.
Select the "Cancel Subscription" button under the "Subscription" section.
Follow the prompts to confirm that you want to cancel your subscription.
If you are asked to provide a reason for canceling your subscription, select the reason that best applies to you and click "Submit."
Your subscription plan will terminate. After canceling the subscription, you can stop paying for the service. 
Remember that once you cancel your HBO GO subscription, you will lose access to the service and can no longer watch any HBO content. You may also be required to pay a cancellation fee, depending on your subscription plan and the terms of your contract.
If you have issues canceling your subscription or have questions about the process, contact HBO GO customer support for assistance.
See Also: 6 Best Streaming Service To Replace Cable In 2023
FAQs
What is HBO GO Now?
HBO GO Now is a streaming service that allows you to watch various HBO content, including movies, television shows, documentaries, and more. You can stream this content on your computer, phone, or another compatible device with an HBO GO Now subscription.
How to get a free-of-cost trial of HBO GO Now?
Yes, many HBO GO Now subscriptions come with a free trial period. During this trial period, you can test the service and watch various HBO content without paying anything.
Can I share my HBO GO Now subscription with others?
Yes, the HBO GO subscription can be shared with or used by others users. Each person must create an HBO GO Now account and use her login information to access the service. The maximum user count can be upto five people in your household.
Can I watch HBO GO Now on multiple devices?
Yes, you can watch HBO GO Now on multiple devices. The amount of devices you can stream at one time is determined by the plan you select. Some plans allow you to watch on three devices simultaneously, while others allow you to watch on up to five simultaneously.
See Also: How To Access Free Alt Balaji Premium Account In 2023
Conclusion
Up to now, you have learned many things about the free HBO GO accounts and how to HBO GO log in. You also have learned about its features, benefits, how to get an HBO GO free account, etc. So now, without giving it a second thought, subscribe to get in touch with some of the trendiest shoes available today. If you are from Canada, then do Check out how to access HBO Max in Canada
Don't you want to know who will eventually get to the iron throne on Game of Thrones? Or don't you want to know more about what occurs in Westworld? If the answer to all these questions is yes, then immediately get a free HBO GO account for yourself.
Richard Wakeling: Freelance writer at FreeAccountsOnline. 13 years covering video games in reviews, news, guides, etc. Resident Evil 4 superfan with copies on five platforms.