As technology advances daily, it is becoming easier for us to find a solution to our day-to-day problems. People say that the internet has ruined our generation's lives. But that's not fully true. If you use the internet for the right purpose, you can make the best of it. Now let's take the example of scholars. Thus, you must know how to get a free Course Hero account.
To get a free Course Hero account, you need to go to coursehero.com. Once on the website, click the "Sign Up" button. Multiple sign-up options exist—Google, Facebook, Apple, and email. You can sign up for an educator account if you're an educator.
You can generate free Course Hero accounts and passwords with the generator below. Just click the "Generate" button and wait for about 20-30 seconds. Your email ID and password will display. Now, all you have to do is enter these details inside the login panel on it's side, and you are good to go.
Free Course Hero Account Username & Password
Note: We have limited accounts; some might not work if they are already in use. If that is the case with you, rerun the generator for new details.
See Also: How To Not Get Caught Using Course Hero? Is It Cheating
How to Get a Free Course Hero Account
As we know, that course hero has a premier-type account that is paid. Without having a premier membership, you won't be able to view or download any of the documents from the library. And if you are anything like someone who wants to avail yourself of facilities without burning a hole in your pocket, then you are at the right place. In this section, I will guide you through how to get a Free Course Hero Account to access all the premier stuff free of cost. Click Here to know if Course Hero is legit or a scam.
Method 1: Free Course Hero Account Usernames & Passwords List
Username: Password
senga000: 0053411070
calwk: calwkgod
Carldeosupnet : justdoit09z
BIrdt3n : b12345678
amirgui20: especial600
Method 2: Try Zen Surveys for a Free Course Hero Account
By utilizing Zen Surveys, you can easily arrange access to a free premium account. Just sign up using this link, and you're good to go.
Go through the given steps:
Signup on the page that opens using your email ID.
When you obtain the verification mail, tap on the confirmation link to confirm your account.
After you are over with it, several tasks will be displayed in front of you. And you need to complete any one of them.
After you execute the given task, you will instantly get access to the premium account in your inbox.
You can perform this as many times as you wish with different email ids for multiple premium accounts! So, don't hold back!
Method 3: Signup
Open the browser and go to the course hero's website.
Sign up if you are a new user; else, log in.
Upon signing up, you will be asked if you want to get instant access to study materials by paying.
If you do not want to pay and still want a Free Course Hero Account to have access to those documents, do the following:
Upload Documents
This method has been explained very clearly beforehand in this article. You upload your documents, and you will get access to their study material. For each document you upload, you will get the credit that lets you unblur documents of your choice.
That will solve your query of how to unblur course hero documents. Their system will check if that document is not already present in their database. If yes, you will get the credit.
Refer to a Friend for a Free Course Hero Account
For every referral, you get a credit of $25 for tutor access.
Your friends need to use your referral code to sign up for course hero, and you can even use course hero free trial.
Method 4: Using Private Accounts and Password-Sharing Sites
The person who has posted his Free Course Hero Account share details will get a credit of 10-20 cents each time someone uses his account, usually by watching an advertisement.
Method 5: Get a Free Course Hero Account Using Plugins and Extensions
Many Free Course Hero Account extensions, such as CHDL Extension, Scrapyblur Plugin, etc. are available.
Do try them and let us know which you love.
See also: How To Unblur Course Hero | Complete Guideline
Introduction to Course Hero
Course Hero is an online learning platform that provides access to study resources like flashcards, course materials, tutors, and educational videos. Andrew Grauer founded Course Hero at Cornell University in 2006. Free Course Hero Account's initial motto was for students to share their notes, assignments, etc. Its headquarters is at 2000 Seaport Blvd, Floor 3, Redwood City, CA, United States.
Course Hero has two types of membership- basic and premier. Basic is the free version of course hero. Here you get to browse the study material in their library, but you cannot view them fully. You can also get your doubts cleared with a Free Course Hero Account by the tutors available always. You have to pay for each question.  If you upload your study material, you can get access to the study material without actually paying for it.
What Does Course Hero Offer?
For every 10 documents you submit, you earn five unblocks or 3 tutor questions. In the premier version, you get up to 40 tutor questions and access to their library. You can also view and download the documents, unlike the case for the basic account. At course hero, you can also become a tutor. If you are good at some subject and confident about it, you can register for a Free Course Hero Account as a tutor and earn money.
You can also get great scholarships by doing simple tasks. They are described as follows:
By sharing on social media with your friends, you become eligible for a scholarship for $5000
By uploading any eight documents of yours, you will be eligible for a scholarship for $3000
Answering simple short questions can get you a scholarship for $1000.
Now that is obvious that they will have some screening round before they hand over the scholarship to you. So be creative and innovative to bag one of those.
The premier membership can be achieved in three ways:
1-year membership for $119.40
Three months membership for $59.85
A 1-month membership for $39.95
Best Features of Course Hero
A Free Course Hero Account has some fantastic features to offer. They are discussed below.
Beneficial for both students as well as teachers. As a student, you get to learn; as a teacher, you get to earn.
Help is available 24×7. Isn't that amazing? You need not worry about time or anything. Go to the site, log in, and you will be ready.
One very interesting feature is that you can upload your study document, which includes assignments, lecture notes, etc., and then access the site's study material.
You get great scholarships for up to $10000. All you need to do is fill up an application. All you need to do is have a course hero account and answer short, simple questions. You have to be creative in that. The best answer will win.
Course Hero Plans and Pricing
Because Course Hero is a crowdsourcing education technology platform, it offers free membership options such as posting content, becoming a tutor, or bringing a friend to the site, all unlocking resources. However, verified Course Hero reviews indicate that this provides restricted access to the study material. Therefore, you will get quick access to all the information if you pay for premium services.
There are three-course hero subscription price options:
Annual Membership

costs $9.95 monthly, with a one-time payment of $119.40.

Quarterly Membership

 is $19.95 per month, invoiced in one upfront payment of $59.85.

Monthly Membership

 is $39.95 per month.
Users can ask up to 10 Tutor Questions with a Monthly Membership, 20 Tutor Questions with a 3-month Membership, and 40 Questions with an Annual Membership.
What is the Purpose of a Couse Hero Premium Account?
Consistent supply of new study materials

High-quality study resources are available in the catalog.
Students have unlimited access to millions of documents on any academic subject.

Five different types of scholarships are available to students, each worth $5,000 annually until graduation.

Students can earn free access to Course Hero materials by submitting study material.
How to Cancel a Course Hero Subscription?
To cancel or delete your Course Hero subscription to a premium account, you will need to follow the steps below:
Access your Course Hero account.

Click on the "Account" tab in the page's top right section or upper corner.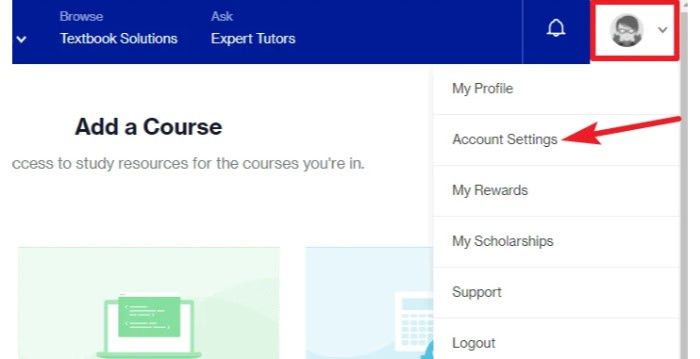 Select the "Subscription" option from the available drop-down menu.
Click the "Cancel Subscription" option on the Subscription page.

Follow the guidelines present on the screen to confirm your cancellation and end the process.
It is essential to know that if you cancel or remove your subscription, you will lose permission to use all of Course Hero's premium features and material. Your subscription will also no longer be charged. You must sign up again and pay the applicable fees if you decide to reactivate your subscription.
FAQs
Can I use another person's Course Hero free account?
No, you can only utilize your own individual tutor application's Course Hero tutor account. As a result, you cannot lend or transfer your Course Hero tutor account to another user and are not permitted to use or borrow another user's tutor account in any way.
How do I unlock files on the premium Course Hero account?
Uploading your original notes and documents to the site will grant you free Course Hero Unlocks that will aid others in their education. You can see and download the whole collection of Course Hero documents using any unlocks you earn, which are valid for 30 days. You will get 5 unlocks for every 10 successful content uploads when you post it.
How can I clear the blurred content on my Course Hero page?
To register for a free account with Course Hero, launch a browser and go to the website. To view the obscured document you need, locate it and click on it. Click the pink see full document button. Then click Continue to access.
Does Course Hero provide information to schools?
Course Hero does not tell your school because of their services' confidentiality and lack of affiliation with any colleges. Your instructor can determine whether you copied a source directly from Course Hero, though, if your school uses Turnitin to check the originality of student work.
Final Words
Now that you know basic things about the free course hero account, you can use it without problems. Utilize it to gain knowledge and impart your knowledge to those in need if you are an expert. I hope you find this helpful in answering your "How to get a free course hero account?" query. Cheers. Thank you!
Jordan Ramée: Video game and anime journalist since 2016. Turns obsessions into compelling content. Beware: Mentioning Hollow Knight may trigger lengthy lore discussions.